Oxford University Institute of Developmental and Regenerative Medicine (IDRM)
Oxford, UK
Institute of Developmental and Regenerative Medicine (IDRM)
Oxford, UK
In the grounds of the University of Oxford, a new chapter was being written in its esteemed history. More than three years after construction commenced, the new home for the Institute of Developmental & Regenerative Medicine (IDRM), the IMS-Tetsuya Nakamura Building, was completed. This three-story building, designed by SRA architects, built by McLaughlin & Harvey, and project-managed by RIDGE, offers a sprawling 6000m² of space for cutting-edge research facilities, a café, seminar room, and exhibition space in the auditorium. The building will house around 240 world-leading scientists, fostering a vibrant and multidisciplinary environment dedicated to battling the world's most prolific diseases.
The heart of this institute was the expansive open-plan laboratory and office space, expected to be a hub of activity and innovation. However, this meant that a solution was required to protect the walls from the inevitable wear and tear, while also maintaining the aesthetic integrity and hygiene of the space. This requirement led the architects to approach CS regarding our wall protection systems.
Our Area Sales Manager assisted the architects in devising a tailored scheme that would offer the necessary protection without compromising the building's visual appeal. After evaluating the options, a combination of Acrovyn profiles was specified on the project.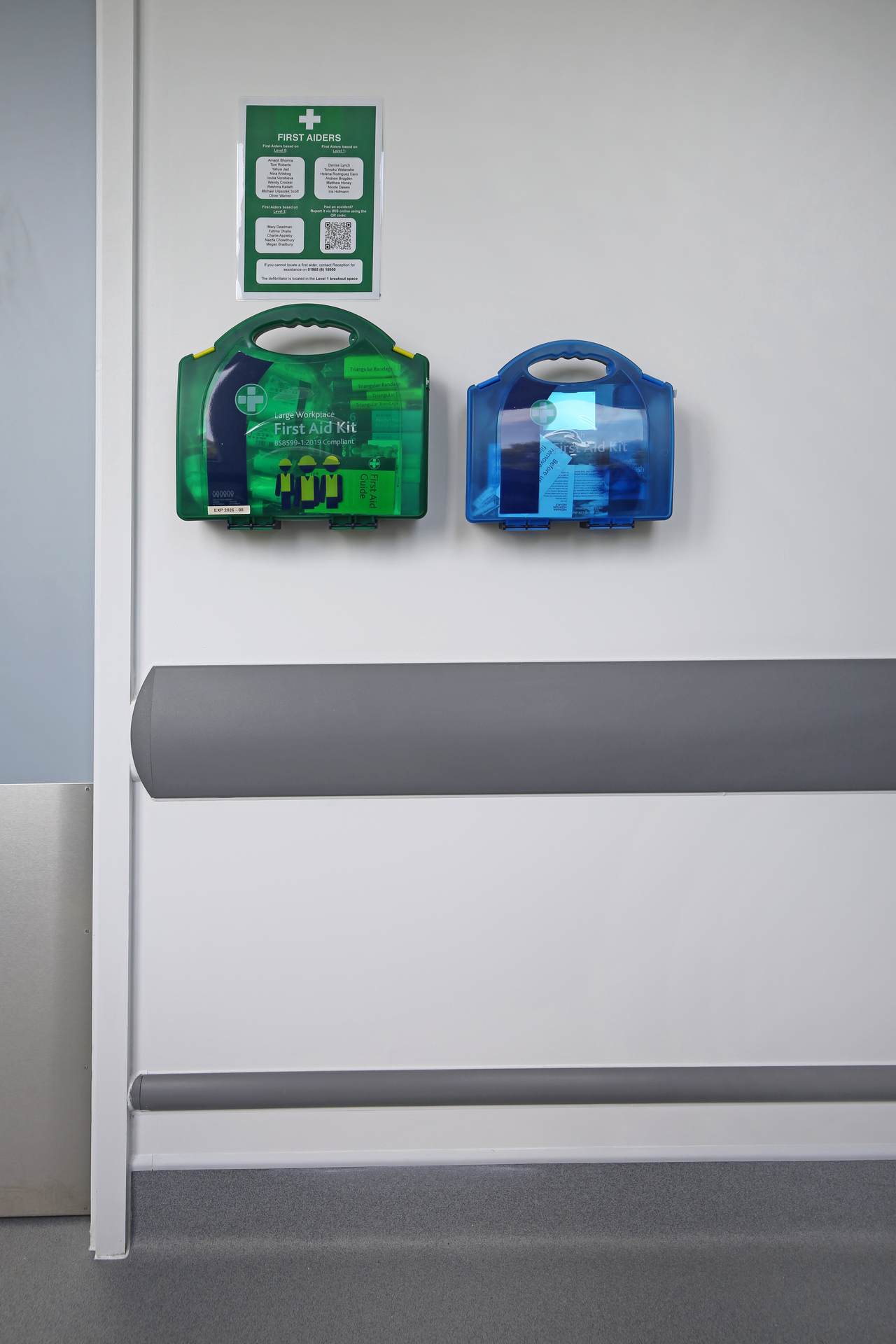 At mid-wall level of laboratory corridors and equipment wash areas, 256m of the robust 203mm high Acrovyn SCR-80M crash rails were installed. These products feature continuous aluminium retainers and internal bumper cushions, to endure the impacts from trolleys and larger equipment that would frequently traverse these areas.
The same amount of lighter duty Acrovyn FR-225 Rub Rails were installed above the skirting level. These would keep smaller equipment from causing damage to the wall surfaces, providing an additional layer of protection.  In addition, 56 heavy-duty Acrovyn SM-20 corner guards were fitted above and below the SCR-80 crash rails at all external corners to ensure full wall height protection.
The Charcoal colour chosen for crash rails and rub rails coordinates well with the door and floor finishes, while Snow White corner guards blend in with a wall colour, resulting in a bright and fresh scheme.
Not only did the wall protection scheme serve a functional role in preserving the integrity of the walls, but the choice of colours and materials also helped create a cohesive, modern and appealing aesthetic. Now, as scientists start their groundbreaking work within these protected walls, they do so in an environment designed for durability and functionality.